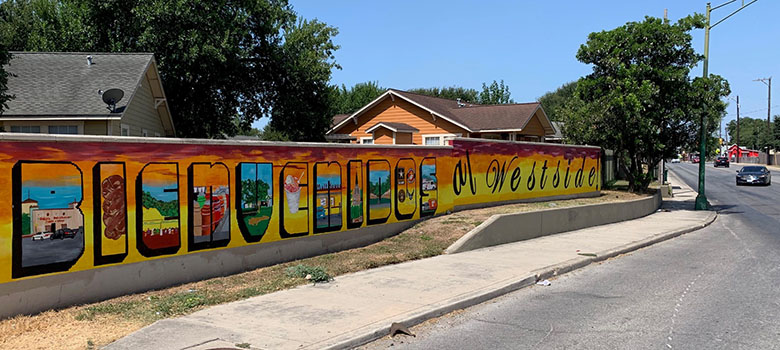 UTSA strengthens its Westside ties with an oral tradition of Hispanic culture | UTSA today | UTSA
The symposium marks one of the latest outreach efforts of the Westside Community Partnerships Initiative and one of many neighborhood initiatives of UTSA's Office of Community Relations. The goal of Westside Partnerships is to improve the lives of families living in San Antonio's Westside by investing in the preservation of rich heritage while helping residents meet their most stubborn challenges.
"It's important that UTSA, as a model institution serving Hispanics, examines the challenges and opportunities in communities like the Westside," Enriquez said.
The event is also aligned with the university's commitment to ensuring that residents and business owners of this culturally rich community prosper, according to UTSA's Vice President for University Relations. Teresa Nino.
"UTSA is dedicated to amplifying the economic and cultural assets of San Antonio's historic Westside," she said. "The university has a vital role to play in fostering the spirit of innovation and entrepreneurship in this community. We want to be the tide that lifts all boats.
President of UTSA Taylor Eighty, with rep. Joaquin Castrowill speak at the opening session of the symposium.
Eightmy led efforts to create the Westside Initiative and the Westside Community Center, both launched in 2019.
The Center was established in August of the same year to bring together city stakeholders and serve as a hub for community research. Meanwhile, the Westside Initiative, launched this fall, has fostered meaningful relationships with Westside residents and business owners, sparking vital economic opportunities and partnerships in the community.
Both programs are also part of Eightmy's strategic initiative to make UTSA a city-serving university, which requires the institution to deepen its ties to all areas of San Antonio, especially neighborhoods historically underserved.
The symposium will be a great opportunity for vital community voices to tell their stories. Attendees will hear from Chicano movement activists who fought against the oppression of West Side residents and beyond. They'll also hear about the West Side Sound, an enduring fusion of jazz, R&B and Tejano music that grew out of the community as early as the 1950s – as told by artists at the forefront of the scene.
For many of these people, success was rooted in finding ways to cope when times were tough, Enriquez said.
The narrow, rectangular residences known as shotgun houses, for example, testify to the determination of Westside residents who were unable to secure bank loans to become homeowners.
"They would buy a narrow lot and a lumber kit on credit, and the community would help build the house," Enriquez said.