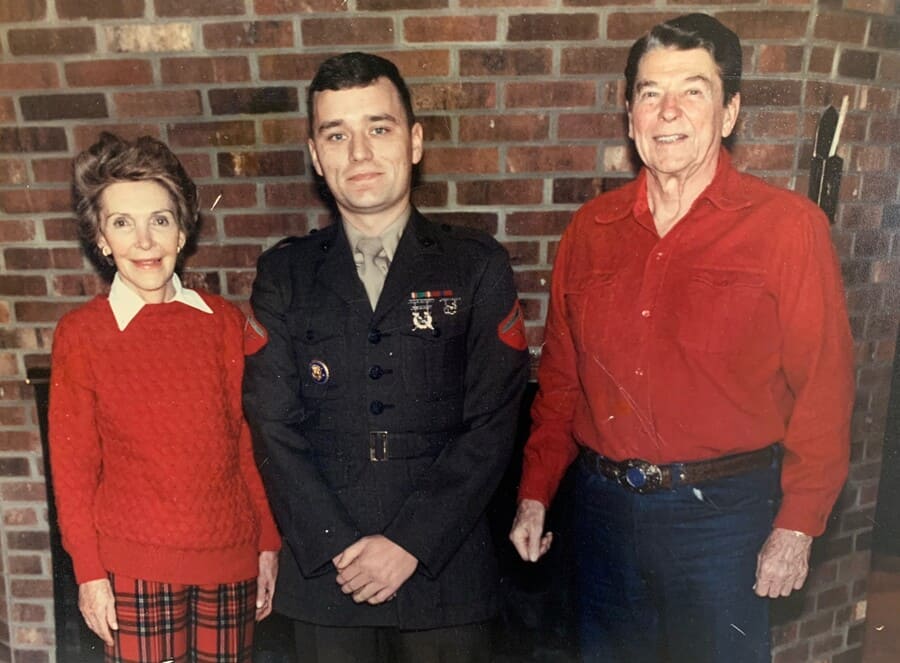 Troy Morris is the Veteran Employee of the Month for the State of Nevada in March 2022
Troy Morris is the Veteran Employee of the Month for the State of Nevada in March 2022. Morris is a facilities supervisor at the University of Nevada, Reno and has worked in the department for seven years. On active duty from 1984 to 1988 in the United States Marine Corps, Morris' training made him an ideal candidate for college. Today, he is a valued member of the Wolf Pack community and attends almost every event on campus.
After boot camp and training for helicopter operations, called "MOS 6311 Avionics Tech for Helicopters", Morris was stationed in Quantico, Virginia with the Presidential Helicopter Squadron HMX-1, also known as Marine 1. In January 1986, Morris with his HMX-1 squadron transported President Ronald Reagan and Mexican President Miguel de la Madrid to Mexicali, Mexico. In October 1986, Morris and HMX-1 attended the Iceland Summit in Reykjavik with President Ronald Reagan and Soviet Russian leader Mikhail Gorbachev.
One of the most defining moments of Morris' career was his time with President Ronald Reagan and First Lady Nancy Reagan. In December 1987, Morris met with the President and First Lady at Camp Davis, which is a military airport in North Carolina. Later that month, Morris was invited to the White House Christmas party by the President and First Lady.
"There were many other times during my service that brought back fond memories," Morris said. "It was an honor to serve in this capacity."
When Morris started his career at the University, he started out as a temp worker in garbage, recycling, and fixing light fixtures on the University campus. However, through consistent hard work and dedication, Morris rose through the ranks to his current position as Facilities Supervisor. Because of his avionics background from his time with the USMC, University Facilities hired Morris to work on the fixtures around campus.
"During this time, he has established himself as a trusted and valued member of our department," Morris supervisor Mikael Carver said.
Now, Morris currently oversees the lighting and moving crews on campus. He is also the facilities supervisor who oversees start-up each year.
"I love my job here at the University," Morris said. "Since my active duty in the Marine Corps, my job at the University is the best I have had"
As Facilities Supervisor I, Troy is responsible for supervising the Garbage and Recycling Team, Lighting Team, and Moving Team. One of his many duties as a facilities supervisor on the moving team is to support most events on campus. In addition, it also plays a major role in preparing classrooms for teaching each semester. With the return to in-person learning for University students, Morris, along with his team, ensured each classroom had assigned furniture and replaced any broken or missing furniture prior to in-person teaching. . He was also responsible for installing hand sanitizer dispensers and towel stations in every classroom and entrance with just three weeks' notice. Morris provided students and instructors with essential safety supplies necessary for classroom instruction.
"If there's an event on campus, Troy is usually involved to some degree," Carver said.
In May 2021, when the start was moved from its normal location on the quad at Mackay Stadium, Morris and his team had to act quickly to develop and organize the start in a venue where the start did not take place in the recent history. During the process, Morris worked tirelessly, virtually camping out at Mackay Stadium for three weeks. The event was a huge success, and Morris and his team were central to making it all happen.
The NevadaFit Opening Ceremony was another event that Morris and his team were responsible for. This year, all freshmen and transfer students were required to attend NevadaFit. The opening ceremony, which took place at Mackay Stadium, was set to kick off the week for the first time this year. The following week included many different events across most areas and departments on campus. These changes brought new challenges that Morris would have to meet and plan for.
"He was up to the task. He handled the new format like a pro, resolving many issues that arose leading up to and during NevadaFit's opening week," Carver said.
"I love the interaction I have with the various facilities and university departments," Morris said. "In my job, I have the opportunity to help others across campus. Of all the events, Football Tailgates, Presidential Duties, NOW Week, Jazz Festival and many more, I have a great sense of accomplishment when I can help others achieve their goals.