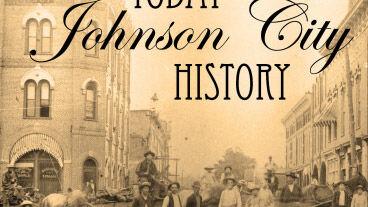 Today in Johnson City History: October 6 | Life
October 6, 1873: Dr. Hezekiah Hankal received a certificate to teach in Tennessee public schools. (Source: Greater Johnson City A Pictorial History.)
October 6, 1879: The Sun, a Baltimore, Maryland newspaper, reported that "Postmaster Key, at Jonesboro's centennial celebration, Tenn., Last Friday gave a loud speech on state credit, urging a "square policy and no bushshirking", and arguing that Tennessee was better able to pay its debt than any other southern state.
Jonesboro was spelled this way in 1879.
The Sun is now published as The Baltimore Sun.
October 6, 1892: The comet reported, "Capt. WH Nelson, the hero of Backwoods and the man who believes in a free ballot and a fair count, (in Carter County [sic]), was in town yesterday.
According to former judge Lynn Brown, Backwoods was a community in Carter County. He is now known as Ripshin.
October 6, 1914: Johnson Town Staff noted: "Mrs. John M. Bayless was taken to Johns Hopkins Hospital (sic) on Monday for treatment. Ms Bayless suffered from a hardening of the arteries in one of her lower limbs. It is likely that the limb will need to be amputated.
October 6, 1921: One hundred years ago today, The Fayetteville Observer reported that 14-year-old Minnie Massey was still missing. She had disappeared during a shopping spree in Johnson City with her mother.
The Fayetteville Observer was, and still is, a newspaper published in Fayetteville, North Carolina.
October 6, 1929: The Knoxville Journal reported that a man died in Johnson City Jail. "Damerion F. Deshazo, who is believed to be from Dayton, Ohio, was found dead in the city jail (ie Johnson City) this afternoon, two hours after being arrested for intoxication. The article continued to say, "The verdict of a coroner was that his death was due to dilation of the heart, as a result of excessive alcohol consumption. He had been arrested shortly before noon on complaint from a resident that Deshazo, drunk, had entered a house where he was not known and had gone to bed. The story also said: "It was learned that the man was only here (i.e. Johnson City) for a few days, staying at the home of the National Soldiers, where he was awaiting papers to gain admission. as a patient. "
The Knoxville Journal is now published as Knoxville News-Sentinel.
October 6, 1930: The Johnson City Staff-News ran an article about a breeding baseball game. "As a proportion of the population, five times as many fans saw the reproduction of the World Series classic in Johnson City on Sunday, as witnessed the real game in St. Louis. In the city of the National League, about 40,000 cheered the cardinals, or about one twenty-fifth of the population of St. Louis. In Johnson City, a crowd of 5,000 to 6,000 people, or the equivalent of one-fifth of the population, saw the same in front of the magnetic game board at Keystone Field, operated by The Chronicle and Staff- forces. News.
October 6, 1946: 75 years ago today, readers of the Johnson City Press-Chronicle learned: "Dr. Alfred W. Jones, recently separated from the United States Army after 42 months of service, will open dental offices at 119 tomorrow. East Holston avenue (sic).
"A former student of East Tennessee State College, Dr. Jones graduated in February 1943 from the University of Louisville, Kentucky, with the degree of Doctor of Dentistry. He entered the army a month later and was soon overseas, serving for two years at the North Sector General Hospital, the Pacific theater of operations.
"Dr. Jones is the son of Mrs. SF Jones and the late Mr. Jones and is married to former Jane Houston, daughter of Mr. and Mrs. ED Houston. The couple live at 125 East Holston ave (sic).
"A captain in the Army Dental Corps prior to his separation, Dr. Jones is a member of Psi Omega, professional fraternity."
East Tennessee State College is now known as East Tennessee State University.
Camp Campbell in Kentucky is now known as Fort Campbell.
October 6, 1959: The Johnson City Press-Chronicle informed readers that "Dr. Lloyd Pierce, Assistant Vice President of the Hamilton National Bank, will be leaving at the end of the month to assume his new role as Director of Education for the National Association of Mutual. Savings Banks in New York. Dr. Pierce was from Mountain City.
October 6, 1966: The Johnson City Press-Chronicle noted that more than 11,000 teachers would be in Knoxville on October 27-28 for the East Tennessee Education Association annual convention. The meeting would mark the 62nd time that the convention has met.
October 6, 1971: Fifty years ago today, readers of the Johnson City Press-Chronicle learned that several state lawmakers recently met with Johnson City officials, including Mayor Vance Cheek and Acting City Manager Joe Ward Booth to "Discuss plans to bring General Assembly members here on November 8th. 12-14. The article continued: "The group, which is part of an effort called 'Citizen's for Medical Advancement in Tennessee,' is seeking support for a medical center brought here in conjunction with East Tennessee State University and the Alumni Administration. fighters at Mountain Home. "The article continued," While visiting Johnson City, lawmakers would also participate in a briefing on what the medical center would provide for the area, and would also visit the VA center and the ETSU, and would be invited to (football match)… November 13th.
October 6, 1983: The Johnson City Press-Chronicle reported information on the new leaders of the Kiwanis Club. Bill Breeding had recently been installed as president, Ralph Sims was first vice president, Harry Jones second vice president and Ray Stahl was secretary treasurer. New board members included Frank Anderson Jr. and George Kelly.
October 6, 1986: According to the Johnson City Press, Johnson City is hosting for the first time a debate between two candidates for governor held on this side of Knoxville. Winfield Dunn and Ned McWherter would debate. Former Governor Dunn hoped to regain his old post. Lamar Alexander was governor at the time, and his tenure was limited.
October 6, 1996: Twenty-five years ago today, with a date from Elizabethton and signing from Clifton Dowell, Johnson City Press readers learned: "Traditional music and homemade musical instruments go hand in hand, and James Hartsell Garland is determined to continue a family tradition of making both.
"Garland grew up learning the old songs, the songs passed down from generation to generation informally on the porches and in front of the living room fires. He has 1940s recordings of those close to him playing the same songs he plays today.