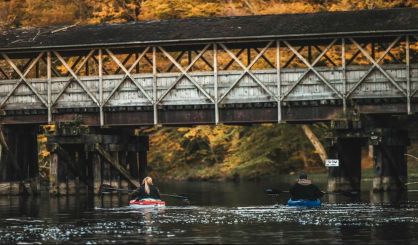 South Haven groups hope to preserve historic bridge
The Michigan Department of Natural Resources is planning a $5 million improvement project for the Kal Haven Trail over the next few years, which has raised concerns about the fate of an iconic bridge near the South Haven Trailhead . The Donald F. Nichols Covered Bridge was once a railroad bridge that was abandoned in the 1970s and later incorporated into the Kal Haven Trail. South Haven Visitors Bureau director Jen Sistrunk told WSJM News that the bridge was a popular attraction.
"We regularly have guests in our office looking to hit the trail, and that's usually their stop right now," Sistrunk said. "If you check social media, you will see many, many families and photos of people on the covered bridge. It is certainly an icon.
The DNR plans to replace several trail bridges as part of its planned 17-mile repaving project for the Kal Haven Trail. This causes locals to fear that the covered bridge may be lost. Sistrunk says they are willing to work with the DNR.
"We understand that major renovations need to be carried out on the bridge. At this time they are not disclosing exactly what their intentions are, but hopefully we can work with DNR to ensure we find a solution that works for everyone:
Sistrunk says that if there is a fundraising element that might come into play, the Visitors Bureau would be interested in being part of the conversation. The DNR did not say what its design plans are for the Donald F. Nichols Bridge, which can be seen on the cover of the current issue of Pure Michigan Magazine. The DNR told us in July that they plan to start their $5 million project on the trail within the next few years.