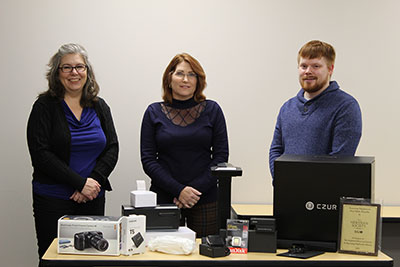 SIUE helps digitize the history of the Highlands
HIGHLAND – As part of a University of Southern Illinois (SSCC) Edwardsville Successful Communities Collaborative initiative funded by a $ 2,593.90 grant from the SIUE Meridian Society, the equipment that Supports Highland History Digitization Project has been delivered to the town's Louis Latzer Memorial Library.
Connie Frey Spurlock, Director of SSCC and Associate Professor of Sociology, submitted the funding request. The equipment was received by Angela R. Kim, director of the Louis Latzer Memorial Library, and Jacob W. Rose, chairman of the City of Highland Historical Commission.