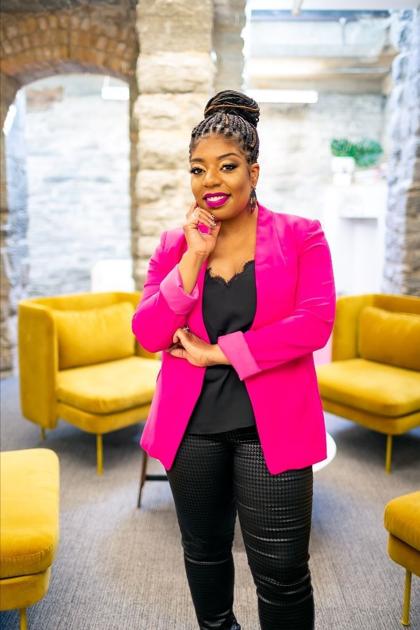 Seena Hodges Elected Chair of the Walker Art Center Board of Directors | New
The Walker Art Center elected Seena Hodges chair of its board of directors at its annual meeting on September 13, 2021. Hodges is the first person of color to hold the position. The Walker also elected a new roster of officers, including Vice Presidents Karen Heithoff and D. Ellen Wilson, Treasurer Sarah Lynn Oquist and Secretary Teresa Rasmussen. While women have held leadership positions throughout Walker's history, this is the first time that all officers have been women. The board also approved a new five-year strategic plan at the meeting.
"Seena Hodges is exactly the right leader for The Walker right now as we embark on a new strategic plan that aims to connect the brilliant creativity of artists with the lived experiences of our audiences. I look forward to working with Seena and the entire board to build a Walker that creates space for all and builds bridges between artists and cultural producers around the world and our local communities, "said Mary Ceruti., General Manager of the Walker Art Center.
"I have always been fascinated by how art, especially contemporary art, connects us to others through its ability to simultaneously modify and expand our understanding and perspectives. It allows us to engage with difference and see beyond at the same time, "said Hodges. "When you spend time in the Walker, you can't help but feel the passion, tenacity, fervor for experimentation and taking risks. I am honored to take on this role as the Walker begins a new chapter and look forward to supporting this important institution and its contributions to our cities.
Hodges joined Walker's Board of Directors in 2017 after co-chairing the museum's annual gala, Avant Garden. As co-chair in 2016, she launched the BIPOC Artist Fund to ensure and encourage the participation of BIPOC creatives in all aspects of Walker. Since then, the Walker has donated over 400 one-year memberships to local BIPOC artists, as well as nearly 700 tickets to the annual fundraising event. During his tenure on the Walker's Board of Directors, Hodges served on the Executive Search Committee, Race Equity Committee and Executive Committee and chaired the Individual Giving and Governance and Nominating Committees.
Hodges says she is a connector who loves people and is passionate about art, fairness, intersectional feminism, and access to courageous spaces for all. She founded the Woke Coach® in 2018, through which she and her team engage with clients to facilitate conversations and complete projects that embody equity, diversity, inclusion, anti-racism and l empowerment.
Hodges graduated from Columbia College (Columbia, SC) and received her Masters in Theater Management and Production from Columbia University, New York. She has worked in the commercial and non-profit theater industry as a producer, director of marketing, publicist and director of development.
Hodges began his career with the Columbia Urban League, a non-profit organization committed to social justice issues. Prior to launching Woke Coach, she held various positions for the Guthrie Theater, Theater Latté Da, Mixed Blood Theater Company, Pillsbury House Theater and Artistry MN. Most recently, she was Associate Vice President of Strategy and Communications at the Saint Paul & Minnesota Community Foundations (now the Saint Paul & Minnesota Foundation).
Hodges is a member of the Black Trustee Alliance for Art Museums (BTA), an organization created to increase the inclusion of black perspectives and narratives in North American art museums. Hodges is currently writing his first book, From ally to accomplice: how to lead as a fierce anti-racist, to be published in early 2022.
Hodges replaces John Christakos, founder and CEO of Blu Dot, who served as chairman for three years. Christakos will remain on the Board of Directors and will continue to serve on the Executive Committee.
New Walker Board Members
Vice Presidents – Karen Heithoff and D. Ellen Wilson
Karen heitoff – For 20 years, arts lawyer Karen Heithoff was the owner of the Intoto fashion design store, located in Uptown Minneapolis. She is actively involved in the GO project in New York and has supported the Telluride Film Festival for many years. Heithoff and her husband, Ken, have also been major contemporary art collectors for over 25 years. In addition to the Walker Art Center, Heifhoff currently serves on the boards of directors of Midway Contemporary Art and the Minneapolis St. Paul International Film Festival.
D. Ellen Wilson – Ellen Wilson is Executive Vice President in the Office of the Managing Director of UnitedHealth Group, focusing on strategic corporate initiatives. Previously, Wilson was Executive Vice President and Chief Human Resources Officer of UnitedHealth Group, where she oversaw all aspects of Human Resources from June 2013 to November 2019. Prior to joining UnitedHealth Group, she worked for 17 years at Fidelity Investments, ending his term. there as a human resources manager. Wilson received a Bachelor of Science in Business Administration from Bryant University and an MBA from Babson College. She currently sits on the boards of the Walker Art Center, Boston Ballet and Bryant University.
Treasurer – Sarah Lynn Oquist
Sarah Oquist is a national speaker, corporate lawyer, executive coach and business consultant. She currently sits on the boards of six companies and teaches business law at Mitchell Hamline Law School in St. Paul. She started her legal / commercial career over 20 years ago, first as a financial lawyer at Faegre, then as a senior international lawyer for US Bank, then CEO of a hotel conglomerate of a. quarter billion dollars, and most recently co-founder / COO of a local business. commercial litigation law firm. Over the past 15 years, Oquist has served on various corporate boards and numerous board committees, as well as director and committee chair positions. She is also a Corporate Governance Fellow certified by the National Association of Corporate Directors for demonstrating her commitment to exemplary corporate governance. Passionate about the idea of ​​equipping leaders to transform their business environments for positive and sustainable growth, Oquist is most often invited to speak on topics of diversity, equity and inclusion; leadership and success; and corporate governance.
Secretary – Teresa "Terry" Rasmussen
Teresa Rasmussen is President of Thrivent Financial for Lutherans, the country's largest charity. Previously, she was Senior Vice President, General Counsel and Secretary. Prior to joining Thrivent in 2005, Rasmussen held senior legal roles at American Express and Ameriprise Financial. She began her legal career in 1984 under the United States Attorney General's Specialized Program, where she was a litigator in the Taxation Division of the United States Department of Justice in Washington, DC. She received her BA in Accounting from Minnesota State University-Moorhead. After passing the CPA exam, Rasmussen received his JD from the University of North Dakota. She is a member of the Bar of Minnesota, Wisconsin and Colorado. Rasmussen married Jon Trangsrud in 1983. She has also served on the boards of the American Fraternal Alliance, the professional association of fraternal benefit societies; MacPhail Center for Music; Minnesota Lutheran Social Service; Association of Life Insurance Advisors; Lutheran Community Foundation; Council of the Americas of the International Cooperative; and the Mutual Insurance Federation.