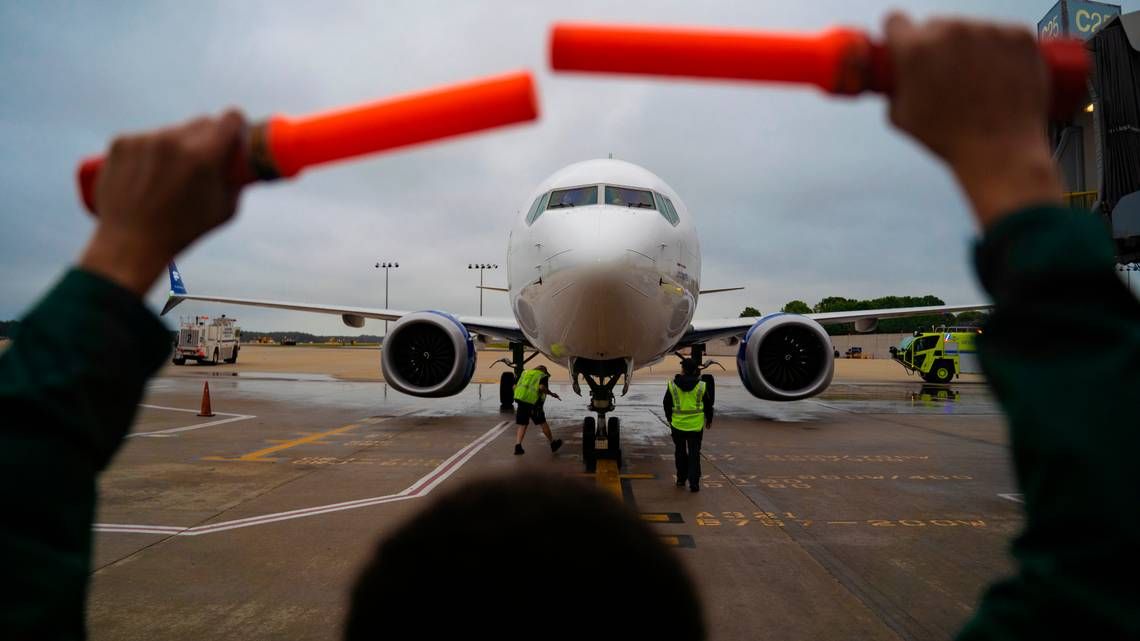 Raleigh-Durham International: the second busiest airport in North Carolina
Raleigh-Durham International Airport (RDU) is not only an important air service point in North Carolina, but also vital to the Mid-Atlantic region of the United States. RDU offers a convenient location in Wake County, North Carolina. Specifically, it is 11 miles northwest of Raleigh, 10.5 miles southeast of Durham, and 17 miles east-southeast of Chapel Hill.
A booming airport
The property covers 5,000 acres with two terminals, 18,818 public parking spaces and a dedicated air cargo area. RDU comprises three runways: Runway 5L-23R (10,000 feet x 150 feet wide); Runway 5R-23L (7,500 feet x 150 feet wide); and runway 14-32 (3,550 feet x 100 feet wide)
In addition to a large volume of passenger traffic, Raleigh-Durham International Airport is home to busy cargo facilities, including the North Cargo area, which houses facilities for carriers FedEx and UPS, and South Cargo for cargo shipped via commercial airlines. These two facilities handle more than 136 tons of goods every day,
From a passenger perspective, several airlines operate in RDU, including Allegiant, American Airlines, Air Canada, Frontier, JetBlue, Southwest, United, and even Icelandair.
The beginnings of RDU
The Raleigh-Durham Airport Authority was established in 1945, before there was even an airport to operate. The gatekeeper to this effort was famed World War I ace (and later Eastern Airlines chairman) Captain Eddie Rickenbacker, who urged the counties of Wake and Durham and the cities of Durham and Raleigh to build an airport together. "Let not civic jealousies or selfish motives interfere with a project that means so much to all of you," Rickenbacker was quoted as saying in 1940.
In 1942, the federal government took control of the airport to establish a military base throughout World War II. The base was designated Raleigh-Durham Army Air Field in January 1943, with barracks and three runways operational on May 1, 1943. It served as a training center for the Army Air Corps until January 1, 1948.
Over time, airlines began operating scheduled services from the airport, beginning with Eastern Airlines' Raleigh-Durham routes to New York and Miami in 1943. Other carriers soon joined. and, in 1970, Delta Air Lines began serving RDU. Allegheny Airlines began service there in 1979, and another past airline, Trans World Airlines, began service in 1984. American Airlines followed in 1985 as RDU's seventh carrier.
Sgerbic via Wikimedia Commons. "' data-modal-id="single-image-modal" data-modal-container-id="single-image-modal-container" data-img-caption='""'>
The flight plan for growth
Eventually the airfield was renamed Raleigh-Durham International Airport and traffic skyrocketed. Today's numbers are impressive, with over 1,088,000 passengers passing through RDU in June 2022. This represents a 41% increase from May 2021 and is the highest number of passengers ever. since the start of the pandemic for the second consecutive month. The average number of daily departures of 186 take-off flights is a 27% increase from May 2021. RDU's recovery is now at 83% of 2019 traffic levels.
This rapid expansion and recovery prompted the airport authority to embark on an ambitious expansion plan, including a $1.4 million highway asphalt replacement and a new pavement marking project. However, RDU's biggest investment project is to replace 5L/23R with a new track. The four-decade-old track has been the subject of emergency preservation work for several years. Still, the authority and the FAA have determined that the future runway, once approved, can be built to 10,639 feet — longer than the current 10,000 feet — to allow takeoff and landing of large planes to destinations. on the West Coast.
This work is part of Vision 2040, the Raleigh-Durham Airport Authority's 25-year growth master plan, focused on four main areas: airfield, terminals, ground transportation and general aviation. This action plan secures the short, medium and long term development needs to meet the region's future aviation demand.