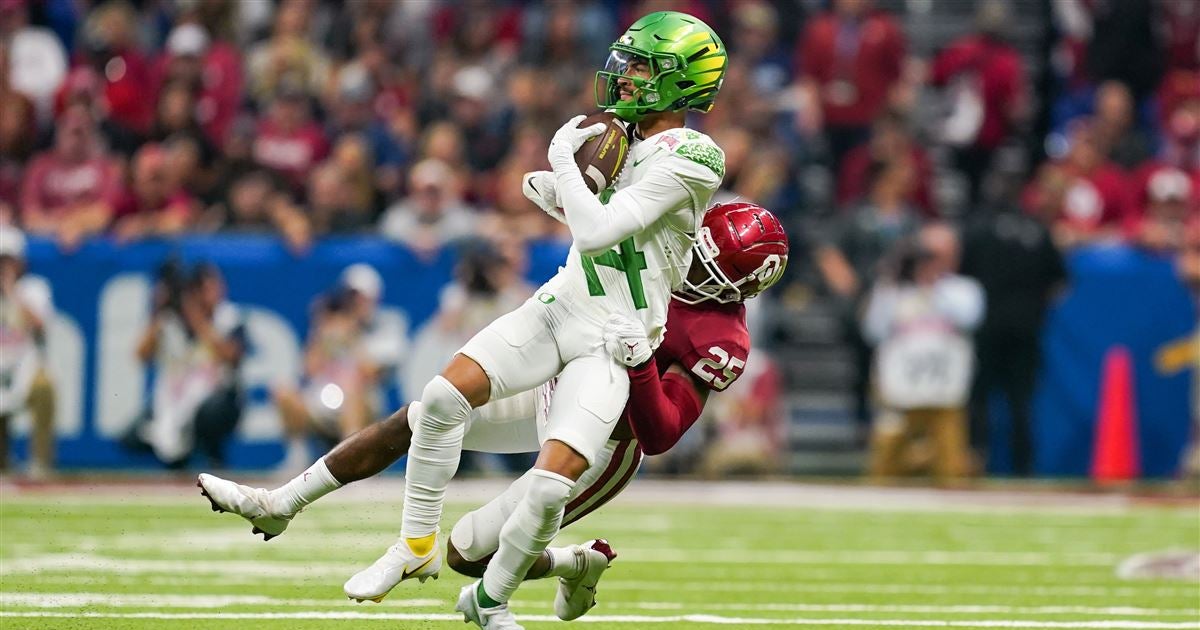 Oregon shows the makings of terrifying receiving corps in bowl loss
I'm not going to ask you to ignore everything you watched on Wednesday night.
Yes, the Ducks did the boat race, especially in the first 30 minutes. The Sooners have scored points on eight straight runs at one time, including five straight runs in the end zone.
No, the Ducks haven't played clean football. And yes, the end result was a 47-32 victory in Oklahoma at the Alamodome, and the Ducks will end the 2021 season with a thud and a 10-4 record. Three of those four losses have come in the last four games, and all have had at least two scores.
But I pulled out my lipstick, so let's go fight a pig.
The second half in San Antonio was maybe the funniest I've had watching an Oregon attack as the guy who coached here wasn't coaching here.
The Ducks scored touchdowns on their first four drives of the second half. And, while no one would mistake this game for biting, I had to revise some of the verbiage in my opening paragraphs to reflect the second-half strength of this offense. The Ducks fought enough in the last 30 minutes that the tenor of this game changed a bit for me.
There are several reasons for this. Namely, what I am writing this evening. Oregon has a few dudes off, and if employed properly, they seem capable of doing great things while they are here. Oregon launched a trio of freshmen and sophomores at Dont'e Thornton, Kris hutson and Troy franklin. All three caught touchdown passes in the second half, and all three will be back in the lead next fall.
"At the end of the day these guys came in and did a really good job of keeping the fight going," Oregon interim and outgoing coach. Bryan mcclendon said after the game. "I mean, I'm proud of them, but I'm proud of everyone in that locker room for doing that too."
Shocker, it turns out that this offense is capable of shooting deep. A team that came in with just 15 completed passes from 30 yards or more in 13 games, logged in on three for the scores on Wednesday. While this is a lesson you hate to learn in the last half of football of a season, it is a lesson that I'm sure has a new offensive coordinator. Kenny Dillingham enthusiastically designing parts on a whiteboard or tablet somewhere as we talk.
The narrative throughout the offseason was that this team had the most talented receiving crop in program history. The hard data also backed it up, as nine of the 15 highest-rated program signatories, by 247Sports, were on that list to start it. It has rarely been the case this season, but on Wednesday that talent was in the spotlight even though a handful of those players weren't on the pitch.
The trio of Hutson, Thornton and Franklin deliver Oregon's offensive promise as we enter the offseason. Bowls are often used as launching pads. They set the tone for what fans are discussing on message boards and how national and local media build storylines ahead of fall. What I felt in the second half of the Alamo Bowl loss was that with the right player at the quarterback and in the right pattern, the nucleus exists for this attack to pass through. either one of the best in the west, and if really maximized, maybe one of the best the school has produced in about a decade.
Each of these young receivers have a breakaway speed – as evidenced by the split they created on Wednesday to establish those scores. In fact, if it hadn't been for a few hiccups from a veteran quarterback that fans are excited to see the gate, more points and big plays could have been had. Hutson and Franklin in particular have also proven to be evil on the open court with the ball, and Thornton has that big body that Oregon often missed in his WR hall, and can really move too.
What I'm getting at is I think the table is set for this unit to attack opposing defenses in a myriad of ways. Just ask Oklahoma what it was like trying to stop that second-half flurry.
I still have questions about the future of this pass attack. For starters, Oregon will need to learn what they've got in their freshman three-quarters and whether the transfer Bo Nix is an adjustment. They'll need Rookie Dillingham to be what many hope he will be – a 31-year-old prodigy with a clipboard. They will also need to hire the right receiver trainer to ensure that this trio is developed to the fullest. Finally, a host corps should consist of more than three players, and although I am impressed with how Isaah crocker came out of nowhere to produce the last two games, and by the good side of real freshmen Isaiah Brevard and Seven McGee, Ducks will need to reach the JUCO portal or ranks for additional experience and corps.
But it seems to me that the most important component of this equation is in place. The Ducks have three future receiver stars, and all of them shone in San Antonio on Wednesday night.