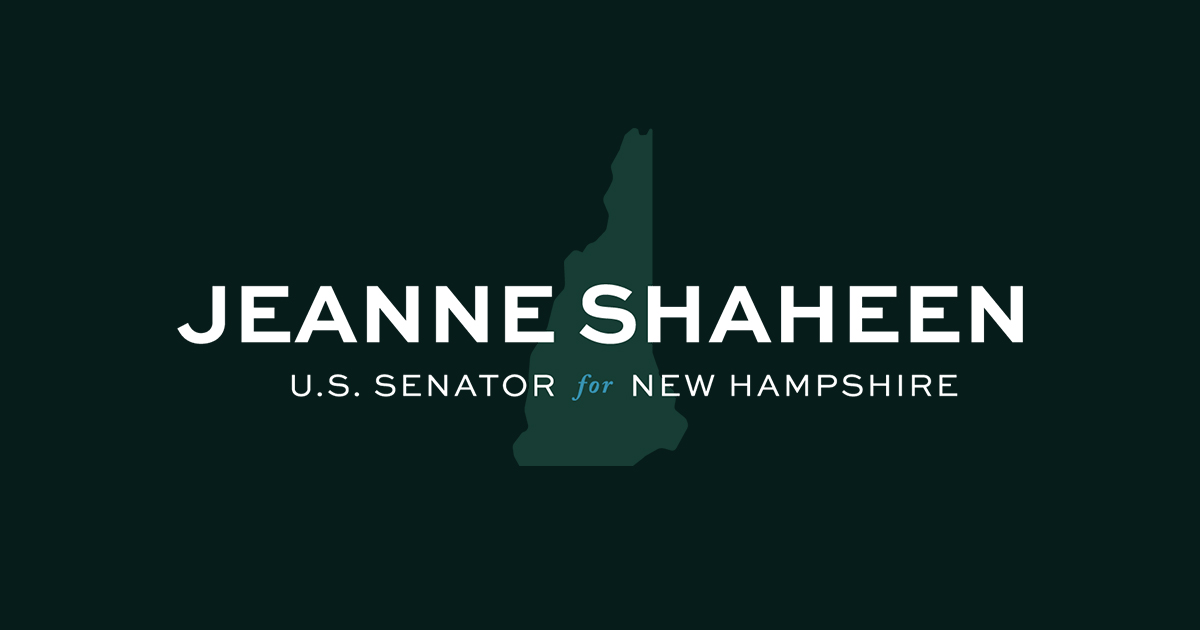 NH delegation applauds $4 million brownfields investment going to NH due to bipartisan infrastructure law
May 16, 2022
(Washington, DC) – U.S. Senators Jeanne Shaheen (D-NH) and Maggie Hassan (D-NH) and Representatives Annie Kuster (NH-02) and Chris Pappas (NH-01) today welcomed an investment of $4 million announced for New Hampshire, made possible by the bipartisan Infrastructure Act, to revitalize communities by remediating contaminated and degraded sites and redeveloping them for productive use. The funding was announced by the U.S. Environmental Protection Agency (EPA) and will support the cleanup of abandoned properties in underserved communities as part of the historic national investment in brownfields remediation.
The ad includes:
$500,000 to BRI Development LLC to clean up Sinclair Land in Bethlehem;

$500,000 to the Nashua Regional Planning Commission to assess downtown Nashua and Milford;

$2,000,000 to the New Hampshire Department of Environmental Services (NHDES) to assess Berlin, Derry and Winchester;

$500,000 to the Southern New Hampshire Planning Commission to assess the City of Manchester and City of Derry; and

$500,000 to the Southwest Region Planning Commission to assess the river towns of Hinsdale, Winchester, Swanzey and Keene.
"This latest allocation of federal funds is another exciting example of bipartisan infrastructure law at work in our communities. This robust investment will remediate and revitalize contaminated sites across the state, increasing economic opportunity in New Hampshire," said Senator Shaheen. "As lead negotiator of the Infrastructure Bill, it is wonderful to see our work come to fruition with tangible change in our communities. Residents of Nashua, Milford, Berlin, Derry, Winchester, Hinsdale, Swanzey and Keene will soon see the impact of this law in their neighborhoods and on their way to work, which is precisely the purpose of implementing this legislation.
"This bipartisan Federal Infrastructure Act funding will help clean up polluted lands and revitalize our communities," said Senator Hassan. "I worked to secure this funding because I recognize the urgent need to safely clean up and revitalize our state's properties so families and local economies can thrive. I will continue to work to meet health and safety needs in our communities.
"This federal funding represents a significant investment in our Granite State communities to clean up and remediate contaminated sites to create a cleaner environment and a stronger economy right here in New Hampshire," Says Rep Kuster. "I am thrilled to see the EPA direct these important resources from the Bipartisan Infrastructure Act Brownfields Program to cities and towns across our state, and I will continue to work to reinvest in our New Hampshire lands and environment."
"New Hampshire's natural environment is one of our greatest treasures and it is vital that we protect it," Rep. Pappas says. "I fought to pass the bipartisan Infrastructure Act to protect our environment, spur economic growth, and build a more sustainable future. I'm glad to see these funds directed to our state to do just that.
"With today's announcement, we are turning plague into power for communities across America," said EPA Administrator Michael S. Regan. "EPA's Brownfields program breathes new life into communities by helping to turn contaminated and potentially hazardous sites into productive economic contributors. Thanks to President Biden's bipartisan Infrastructure Act, we are dramatically increasing our investments in communities, with the bulk of our funding going to places that have been overburdened and underserved for far too long.
"Thanks to the bipartisan Infrastructure Act and the leadership of President Biden, the EPA's Brownfields Program is making a record investment of more than $51 million to revitalize New England communities," said New England EPA Regional Administrator David W. Cash. "Today's investment in the EPA Brownfields Assessment and Cleanup will jump-start economic redevelopment and job creation in many of New England's hardest hit and underserved communities, as we strive to turn environmental risks into economic assets."
"With the assessment funds awarded to NHDES, we are very pleased to have the opportunity to directly assist underserved communities across the state to assess potential health risks associated with contaminated properties and to assist in the redevelopment planning. We congratulate BRI Development LLC on its successful cleanup grant, a first-time applicant who has worked hard to build community engagement, and a focused plan for this downtown redevelopment project in the heart of Bethlehem. We also look forward to continuing our working relationships with the regional planning commissions selected for the important work they will do in the communities they serve," said Bob Scott, commissioner of the New Hampshire Department of Environmental Services (NHDES).
Shaheen was a key negotiator of the landmark Infrastructure Bill, spearheading the broadband and water infrastructure provisions. Last June, Shaheen joined President Biden and a bipartisan group of senators to announce the framework for the package. Shaheen joined members of the bipartisan group on the Senate floor to unveil the text of the bill last August.
Hassan, also a member of the bipartisan group negotiating the infrastructure bill, helped secure provisions for funding public transit and passenger rail. She also led negotiations on key provisions that address coastal resilience, broadband internet expansion and cybersecurity.
###
---
---
Previous post