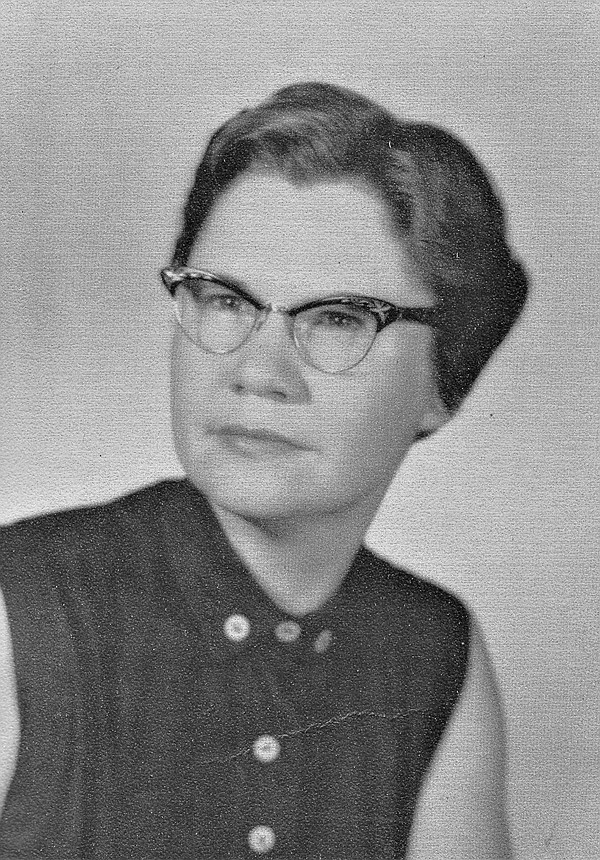 Local Woman Taught Schools in Russellville, California for 42 Years
Marie Wood encouraged the lives of thousands of students she taught during her four decades as an educator in high schools in Russellville and California.
These experiences brought him unexpected recognition from his peers and provided him with many wonderful memories to reflect on during his retirement years.
Born on her father's birthday on August 16, 1928, Wood was raised on her parents' farm southwest of High Point. She attended a one-room school known as Prairie Hill School until eighth grade, then transferred to Eldon High School, where she graduated in 1946.
"I knew some people who had enrolled in Draughons Business School in Springfield, so I decided to go too," she said. "The program lasted about a year, if I remember correctly."
After graduating from the program, which taught several basic business skills, Wood was hired as a clerk for the Missouri Department of Education's Institutional Farm Training Program in Jefferson City. The program helped World War II veterans who wanted to pursue a career in agriculture.
Wood recalls, "After about a year and a half, I decided to go back to school and got my associate degree at Southwest Baptist College (now the university) in Bolivar.
"When I graduated, I returned to the Missouri Department of Education, but this time as secretary to the director of home economics," she added.
Two years into his second stint in state government, Wood took the final step toward achieving his educational goals by enrolling at Warrensburg College. She then obtained her bachelor's degree as she prepared to embark on her career in education.
"The superintendent of Russellville came to Warrensburg in 1955 and interviewed me for a high school teaching job," she said. "I was hired to teach business classes – it was basically business classes like accounting, typing and bookkeeping."
Over the next few years, she taught professional business classes at Russellville High School while pursuing other opportunities such as serving as a class sponsor and accompanying students on senior trips. She also found pleasure in working closely with her students, helping to guide those who demonstrated specific abilities and interests.
"I was in his typing and accounting classes," said Ron Klatt, a 1964 graduate of Russellville High School who later retired from a career at Central Bank in Jefferson City. "She encouraged me to pursue a profession in business, and I will be forever grateful to her for her guidance."
On other occasions, she observed certain students whose boundless energy and personality imprinted on her memory.
"I always remember how Johnny Campbell answered a question I asked in class," she smiles. "I asked him what a semicolon was, i.e. how it should be used. He said, 'It's a comma with a period.'"
Pausing, she added, "He wasn't wrong; I guess I just phrased the question in a confusing way. But he was certainly an ambitious, outgoing young man…just full of life. "
Johnny Campbell graduated from Russellville High School in 1964. Just over three years later, he was killed while serving in Vietnam with the Marine Corps.
"He was the kind of person who went straight into the fight and didn't try to avoid it," she added.
In 1967, after teaching in Russellville for nearly 12 years, she was hired to teach business-related classes at California High School. As she explained, she chose to move to California because it would allow her to be closer to her parents.
As noted in the "Moniteau County, Missouri History" published in 2000, during the 1986-87 and 1993-94 school years, Wood received the honor of being selected as Outstanding Educator of the Year by his fellow members of the faculty.
She completed 30 years at California High School, retiring in 1997 with a total of 42 years of teaching under her belt. In the years following her retirement, she became involved in many volunteer opportunities in the community. In 2001, she was elected Distinguished Retired Teacher by the Morgan/Moniteau County Retired Teacher Association.
"Since her retirement, Marie has been busy working with the Daughters of American Colonists (DAC), OATS, and the Moniteau County Historical Society," reported the Tipton Times on May 17, 2001. "Marie is a member of the First Baptist Church of California."
The accolades continued for the retired teacher when she was recognized as OATS Volunteer of the Year for Moniteau County in the spring of 2005. OATS Transit is a nonprofit corporation that provides transportation for rural residents, elderly people and people with disabilities.
The setback that comes during her retirement years has not diminished the appreciation Wood has for the career path she has chosen. She has many fond memories that at any time can bring her comfort and lift her spirits.
"I can't say I didn't like any of the classes I taught, but I really enjoyed teaching accounting," she said. "It was an interesting class to teach because I loved seeing how it all fit together…especially when the students came to understand it."
"And in all the years I've been teaching, I can't say I've had disrespectful students in my classes. Over my career," she said, "I've taught about 4,000 students and I considered each of them 'my children.'"
Jeremy P. Ämick is writing about the Russellville area for his upcoming book "Hidden History of Cole County".