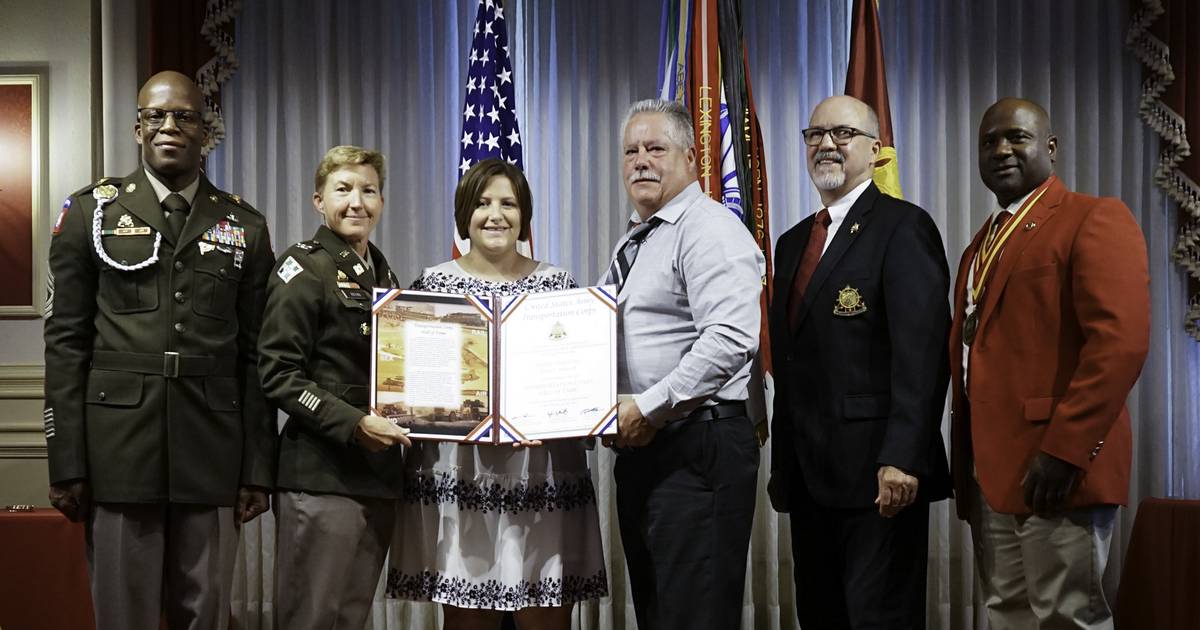 Iraq War veteran with Rock Falls Guard honored by Transportation Corps – Shaw Local
A member of the Illinois Army National Guard who twice deployed to Iraq with the Rock Falls 1644th Transportation Company has received a posthumous induction into the U.S. Army Transportation Corps Hall of Fame.
The induction ceremony which included the late Sgt. 1st Class Terry Jones II and 22 other class members were held July 29 at Fort Lee, Virginia.
[ Friends, family remember Terry Jones ]
Jones' wife Amy, daughters Cadence and Evelyn and father Terry accepted the award on his behalf. He is also survived by his mother Teresa.
Jones died on June 13, 2021, when his motorcycle was struck by another vehicle which swerved to avoid hitting a pickup truck.
"As a soldier and leader, Sgt. First Class Jones stood out from the crowd," said Lt. Col. Michael Barton, a former Rock Falls Company Commander who now commands the 232nd Combat Sustainment Support Battalion in Springfield.
"He always had a positive attitude that put his soldiers and the mission above his own needs," Barton added.
Jones was 33 at the time of his death. Jones was activated during COVID-19 response operations and was serving as the non-commissioned officer in charge of the vaccination site in Aurora when he died.
"He was definitely one in a million, and from a commander's perspective, I'd take a thousand like him," Barton said. "He had a big smile and an infectious loud laugh. In all the years I've worked with him, I don't think I've ever heard him make a single complaint.
Jones enlisted in the Illinois Army National Guard as a junior in high school. He spent his 15 years with the 1644th Transportation Company. He deployed twice to Iraq, once with his father, who was a company master sergeant, in 2011-2012.
Jones worked three years for the Illinois Department of Transportation at Morrison's Highway Maintenance Department.
"The Transportation Corps is known as the spearhead of logistics and the Corps' motto is 'nothing happens until something moves,'" Barton said. "Sergeant. 1st Class Jones was a firm believer in this motto and was aware of the impact the Transportation Corps had on the Army.
Barton said Jones takes pride in being a motor transport operator and instilling that same pride in his soldiers.
Retired Major General Steve Farmen, the longest-serving Hall of Famer, spoke on behalf of the classmates. He gave special recognition to the two posthumous inductees.
"To the family and friends of Sgt. 1st Class Terry Jones, a special tip of the hat," he said.
Farmen then called the inductees "a list of names of transportation leaders who founded, shaped and implemented the vision of evolution that has sustained the Transportation Corps."
Farmen then acknowledged the support and sacrifices made by the families and friends of the inductees. He concluded by elevating the Corps members' wartime service at the parade.
"We are professionals, both military and civilian," Farmen said. "You are a fighter who supports fighters. You will make history and be part of a long legacy and legacy of excellence. Someone is counting on you to move, deliver and lead the way. Have the vision and the courage to push the force forward.
U.S. Army Col. Beth A. Behn conducted the induction ceremony. She said the inductees "left an indelible mark" on the Corps.
"You are transportation legends," she said. "Whether you adopt it or not, you are. By shaping our bodies and creating a vision for the future, you have done this both in times of conflict and in times of peace.
The Hall of Fame recognizes those who serve with distinction. The initiations aim to promote cohesion and esprit de corps.
Barton explained that in 2022 the nomination process changed to accept open submissions from across the Army. It was this avenue that the 1644th Transportation Company used to submit Jones' name for consideration.