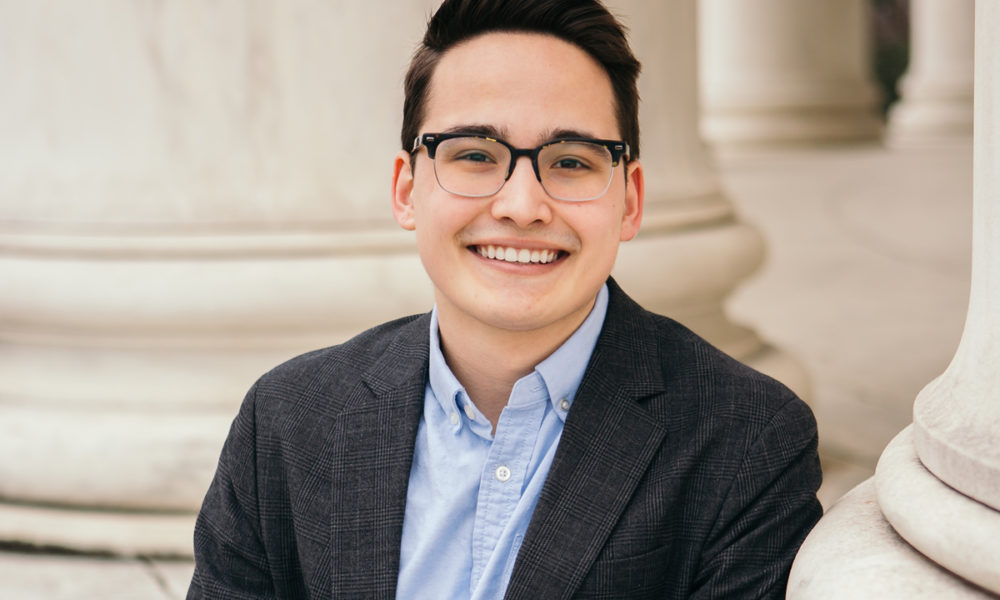 The Comings and Goings section aims to share the professional successes of our community. We want to recognize those who land new jobs, new customers for their business, joining boards of directors, and other accomplishments. Please share your successes with us at: [email protected].
The Comings and Goings section also invites LGBTQ+ middle school students to share their successes with us. If you've been elected to a student government position, landed an exciting internship, or graduated and are starting your career with a great job, let us know so we can share your success.
Congratulation to Albert Fuji after being named press secretary to the Victory Fund. Upon his appointment, Albert said, "Representation is not a passive checkbox; it is an active effort to ensure that diverse voices are present in the room where life-changing decisions are made. I'm excited to join the LGBTQ Victory Fund as a public officer and support LGBTQ elected officials and candidates through the 2022 midterms and beyond. To achieve fair and equitable representation, we still need to elect over 28,000 LGBTQ candidates. I am honored to join this fight.
Prior to joining the Victory Fund, Albert was a Senior Associate at the Global Strategy Group, Washington, DC, and served as a Communications Assistant with the Fulbright Middle East and North Africa Program, AMIDEAST, Washington, DC
He also volunteered as a communications officer with Young Professionals in Foreign Policy, Washington, DC, and worked on a number of campaigns, including those of Malcolm Kenyatta and Jon Ossoff.
Albert has his BA in International Studies, Minor in Arabic Language, American University, DC
Congratulation to T.J. Flavell upon his appointment to the board of directors of the DC Center for the LGBT Community. TJ said, "I am thrilled to serve on the board of the DC Center for the LGBT Community. This will allow me to bring more synergy to much of what I already do in the community and help bring about exciting renewal in a post-pandemic world. The DC Center helps support the arts and many other exciting programs. I encourage everyone to support the DC Center.
TJ is communications manager at the Center for Excellence in Education, McLean, Va. Previously, he was a senior partner for Online Communications, Achieve, Inc., Washington, DC, and head of the Education Technology Network, NSBA., Alexandria, Va.
TJ founded Go Gay DC on the Meetup platform in 2008 as a community booster club promoting friendship, leadership and service. Go Gay DC has grown and now reaches over 10,000 local LGBTQ+ people via email and social media. TJ hosts weekly socials at Westin Arlington Gateway, Ven Embassy Row and Moxy hotels and brunches at Freddie's Beach Bar and Restaurant. TJ said everyone was welcome. TJ has also served as Co-Chair of the Human Rights Campaign Digital Communications Committee and Chair of the Equality Chamber of Commerce (ECCDC).
TJ holds a bachelor's degree in history from Hamline University, St. Paul, Minn.
Congratulations also to the four recipients of the 2022 Victory Congress Internship. These internships help develop the next generation of "out" public leaders. The 10-week program includes a rigorous weekly series of in-person and virtual leadership development and a mentorship component. Victory Institute is proud of its continued and growing partnership with the LGBT Equality Caucus, its members, and other LGBTQ-friendly members of Congress. The trainees are; Evynn Bronson (her) Idaho Falls, Idaho, Brigham Young University, Placement: Rep. Adam Schiff; Unique McFerguson (her), Fontana, CA, Howard University, Placement: Rep. Mondary Jones; Angel Strong (she/they), Lincoln, Neb., Drake University, Placement: Rep. Chris Pappas; and Daria Nastasia (her), St. Louis, Mo., George Washington University, Placement: Rep. Jamal Bowman.