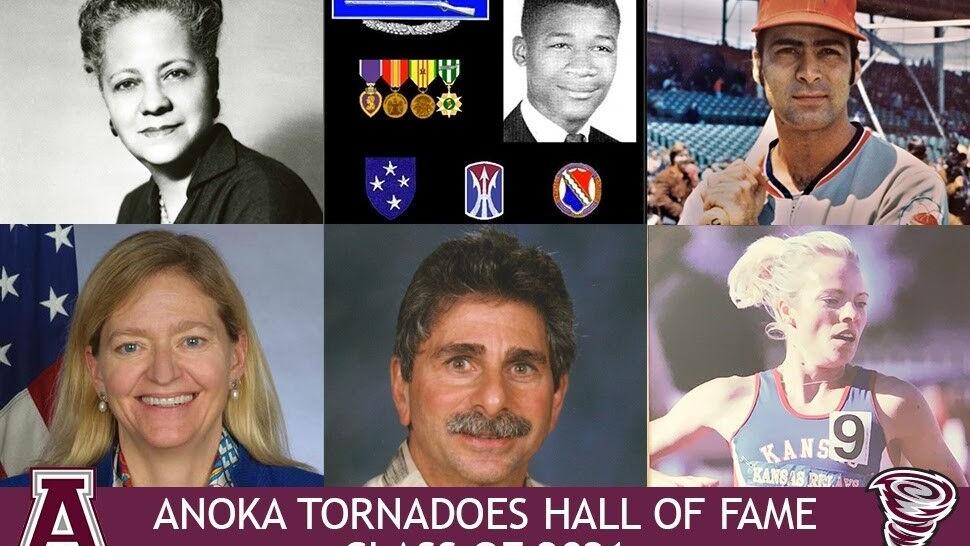 Anoka Celebrates Hall of Fame Class with 6 New Members | ABC Newspapers
Anoka High School has announced its fifth class in the Anoka Tornado Hall of Fame. The Class of 2021 celebrates the achievements of Anna Arnold Hedgman (1918), Henry Hill Jr. (1962), Bob Fenwick (1964), Erica Barks-Ruggles (1985), Bill Leach (educator) and Megan Manthe (2001).
Class 2021 will be honored on October 15 with a community reception from 5 p.m. to 6 p.m. at the Anoka Legion. After the game, the winners will travel to Goodrich Field where they will be recognized at 6:35 p.m. before the 7:00 p.m. football game against Park Cottage Grove. The winners will also be recognized from their seats at half-time.
The Anoka Tornado Hall of Fame was scheduled to induct a class in 2020, but it has been postponed due to the COVID-19 pandemic. The first Hall of Fame class, a group of 24, was dedicated in 2011.
The purpose of the Hall of Fame is to recognize individuals who have outstanding achievement at Anoka High School and to provide a link between former members of the school and the future. Former athletes and participants must have been out of school for seven years or more. Coaches and directors must be retired.
New members of the Anoka Tornado Hall of Fame include:
Anna Arnold Hedgman (1918)
When Anna Arnold Hedgman was a child, her family moved to Anoka where the Arnolds were the only black family in the community. Her father created an environment that emphasized education and a strong work ethic. Anna described her childhood in Anoka in her 1964 autobiography, The Trumpet Sounds. She remembers Anoka as a "cozy Midwestern town with a traditional Main Street." After graduating from Anoka High School in 1918, Anna was accepted into Hamline University. Four years later, she graduated with a Bachelor of Arts in English, the first African-American to graduate from this institution.
In 1948, Anna worked on Harry Truman's presidential campaign and had served in the office of New York Mayor Robert F. Wagner, Jr. She was the first black woman to hold this position. By the early 1960s, Anna was well respected as a civic leader and helped A. Philip Randolph, Bayard Rustin, and Dr. Martin Luther King Jr. plan the 1963 March on Washington, which drew over 250,000 people. in the national capital.
In the 1970s, Anna was frequently a lecturer in African and American universities. She has also written two books on her life's work, The Trumpet Sounds (1964) and The Gift of Chaos (1977). Howard University and Hamline University both awarded honorary doctorates to Anna.
Henry Hill Jr. was an exceptional athlete, excelling on the Anoka High School track team. Henry registered three years on the track and was named co-captain of his senior track team. Henry also participated in football, cross country, and wrestling. He was the director of the basketball team in his junior and senior years and was a member of the National Athletic Scholarship Society. Henry's classmates elected him their senior class president, and he graduated from Anoka High School in 1962.
Henry attended Minnesota State University, Mankato (then Mankato State College) where he was a member of the track team for four years. He was named the Most Outstanding Athlete in a major conference track competition.
Henry graduated from college in 1967 and was accepted into the Army Officer Candidate School. At the end of the OCS, Henry was made a second lieutenant in the United States Army. Sadly, Officer Hill lost his life, heroically leading his troops into battle in Vietnam.
As an Anoka High School student from 1961 to 1964, Bob Fenwick was Editor-in-Chief of "Anokahi", AFS Finalist, National Honor Society and National Athletic Scholarship Society Fellow, Merit Fellow and Graduate of 'honor. He was also an accomplished singer and achieved seven "A" ratings at State Music Contests.
Bob earned seven athletic letters, including two in football, two in basketball and three in baseball. He was a leader on two state basketball tournament teams. Bob led Anoka's baseball team to the state consolation championship in 1963, reached 0.600 in 1964, and was made a statewide member in 1963 and 1964. Bob continued to play in baseball at the University of Minnesota and eventually in the major leagues.
Bill Leach taught English at Anoka High School for 32 years, including 20 as a department head. Over the course of his career, he has served on numerous district committees and program writing teams and has held roles ranging from one-act game director to assistant baseball coach to awards night moderator. Bill was also a Sports Equipment Manager and Game Night Venue Manager for many years. In 1999, he received the Teacher Outstanding Performance Award from the Anoka-Hennepin School District. His tireless dedication to Anoka's athleticism led him to become an honorary member of the Anoka High School Lettermen's Club in 2006.
Bill has also been the "voice of Anoka Tornadoes", announcing all but four home football games since 1978, men's basketball for over 30 years, baseball since the opening of the new Castle Field, and occasionally for boys and girls. gymnastics and Anoka dance team. He also advertised for the Anoka Marching Band at prominent professional sporting events.
Ambassador Erica Barks-Ruggles (1985)
Ambassador Erica Barks-Ruggles is a career active-duty diplomat with 30 years of service in the United States Diplomatic Corps. She was honored to represent the American people on four continents. Ambassador Barks-Ruggles grew up in Anoka and was a Major in her Anoka High School class in 1985. She graduated with honors from Swarthmore College and holds an MA with Honors from National Defense University. Ambassador Barks-Ruggles was a varsity swimmer in high school and college, athletics, played the French horn in a college band and orchestra, and participated in the Debate Club.
Currently Ambassador Barks-Ruggles is the senior official in the Office of International Organization Affairs (IO) at the Department of State in Washington, DC.
Megan Manthe wrote 13 times in Anoka High School. As a cross country runner, she earned five college letters, was selected as a team captain for the junior and senior seasons, was five times in all conferences (three times conference champion) and was four times in all sections (two-section time champion). She still holds the Anoka High School 4K record.
In basketball, Megan got four letters and was selected as the team's captain. She has been a selection of all conferences twice.
In athletics as a specialist in the 400-meter, 800-meter and relay, she earned four college letters, was 12-time all-conference champion, 10-time all-section champion, and eight-time all-state champion. In 1999, she was the anchor of the 4×400-meter relay team that won the state record and set an academic record. She led Anoka High School to the state championship in 2000. Megan was state champion in the state record individual 800-meter and 4×800-meter relay team in her senior season.
Megan also obtained four academic letters and a cumulative grade point average of 4.6 in 2001.
Megan received a full scholarship to cross-country and track teams from the University of Kansas, where she won four Big 12 All-Conference awards. Academic All-American, she obtained a 4.0 GPA in biochemistry.
Megan received her medical degree from the University of Kansas School of Medicine, completed her residency in orthopedic surgery at the University of Florida, and received further training from the Mayo Clinic in complex arthroplasty surgery from the hip and knee. She is currently among the 2% of orthopedic arthroplasty surgeons nationwide who are women.